Fire Extinguisher Boxes
Wall, floor, post or vehicle mounting
Padlock facility on door catches
Environmentally friendly and fully recyclable
Weather seal
Inspection vision panel in door
Reinforced base plate ( Double Box)
Note: Single Box not large enough for 9 Litre water / foam or 9/12Kg Powder
Approx Int Size
Fire Extinguisher Covers
Suitable for any Size extinguishers (3 sizes to choose from)
Low-cost fire extinguisher protection
Manufactured in a durable plastic-based textile
Eye-catching red and black design
Full-length vision panel
Velcro straps for simple fitting
Fire Extinguisher Trolleys
Trolley to take from 1 to 3 extinguishers
Can incorporate a rotary alarm bell
Single-piece epoxy coated steel frame for extra strength
Solid rubber tyres
Will take extinguishers up to 200mm diameter
Fire Extinguisher Stands
Chemical resistant plastic
Single and double sizes available
Full free-standing design with skirting board recess
Suitable for use in food preparation and clean room areas
Available in red, grey and cream
Please note that the triple stand comprises of a single and a double stand with a joining kit.
Manufactured in high-impact resistant plastic, these rotationally-moulded stands are designed for the free-standing location of fire extinguishers.
Single H565mm W210mm D210mm
Double H 720mm W 580mm D 280mm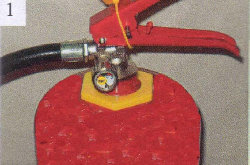 Any comments regarding this site? Please e-mail dale@lhcfp.co.uk
Kent ~ Sussex ~ Surrey ~ Fire Extinguisher ~ Cover ~ Stands ~ Plinths ~ Trolleys ~ Protection From The Weather
London And Home Counties Fire Protection
Fire Extinguishers Kent Sussex Surrey
Quality Fire Extinguisher Stands, Boxes And Trolleys.




Fire Extinguisher Backboards
Fire extinguisher backboards are reduce damage to wall that mounting extinguishers directly to them can cause. The backboard also helps to distribute the weight of the extinguisher through the larger footprint of the board compared with that of the extinguishers bracket with two screws. If glued and screwed to plasterboard the mounting is very robust. The backboard is made from pine and comes in either wood or red finish.
Sold individually
Bevelled edges
Dimensions (HxWxD): 480 x 72 x 22mm
These plinth stands easily identify the location of your fire extinguishers. This double fire point is designed to accept all sizes of portable fire extinguisher.
Available in red and grey
Constructed from durable plastic
Complete with fire point sticker
Red tubed metal fire extinguisher stands are designed to allow the free-standing location of fire extinguishers.
Esthetically designed
Strong tube construction
Lightweight Free-standing design allows for a simple installation in any location
Red paint finish
Available in single and double stands
Dimensions (HxWxD) :

Single stand: 750 x 320 x 300mm
Double stand: 750 x 520 x 300mm

Supplied with a multi bracket kit and extinguisher identification signs
Copyright (C) 2008-2012 Extinguisher Doctor, the Extinguisher Doctor logo are trademarks of London And Home Counties Fire Protection.