London And Home Counties Fire Protection
Fire Extinguishers Kent Sussex Surrey
Quality Fire Extinguishers At Competitive Prices.
Kent ~ Sussex ~ Surrey ~ Key Box ~ Redlam Panic Latch ~ Fire Bucket ~ Rotary Alarm Bell ~ Fire Exit Push Bar
Key Box
Round plastic key box-
Manufactured from durable ABS plastic.
Unique 'snap- fit' design.
Mk I key box supplied complete with printed glass.
Spare glass also be supplied.
Manufactured from cast aluminum, Redlam panic bolts are the economical solution to the problem of providing reliable security for internal emergency exits.
Mark I
Designed for emergency exit single doors. Breaking the CeramtubeTM results in the bolt sliding back automatically and unlocking the door.
Mark II
Designed for interconnecting emergency exit doors. Operates on one side of the door by breaking the CeramtubeTM and on the other side of the door by pushing the knob.
Both versions are supplied complete with hammer and chain. Padlocks and "To open break tube" signs are available separately. The use of an optional padlock prevents unauthorised removal of CeramtubeTM without breaking the tube itself.
CeramtubeTM
Replacement cartridges for both Mk I and Mk II Redlam panic bolts. Designed to produce no sharp edges when smashed. Packed in boxes of twenty.
Incorporates a robust rectangular section, steel cross arm with downward thrust action, giving added strength, ease of operation and an attractive appearance.
Manufactured primarily from Mazak Alloy to BS 1004A.
Finished in dark metallic grey.
Surface mounted.
Supplied with full fixing instructions.
Can be converted for right or left hand operation.
Conforms to BS 5725 part 1.
Specified and approved by fire officers and local authorities.
An anti-thrust device prevents upward leverage of the bottom shoot, providing increased security.
Triple action device fitted to the top shoot keeps the shoots withdrawn when the door is open and automatically releases them when the door is closed.
Surface mounted - fixing instructions supplied.
Manufactured from cast iron with steel tubes, brass follower and extruded aluminum guides.
Finished in dark metallic grey.
Available in single and double door variants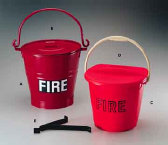 Suitable for garage forecourt protection and clearing up spillages.
Metal buckets are epoxy polyester powder painted in red.
'Fire' label supplied loose with metal bucket.
Lids for both buckets are supplied separately.
Wall-mounting bracket is suitable for metal and plastic buckets.
Redlam Panic Bolts
Push Bars
Fire Buckets
Ideal for outside locations such as caravan sites
Bell sounds 60dB alarm up to 35 metres
Die-cast aluminium dome, powder coated red
Base plate die-cast aluminium
Pre-drilled flange for fast and easy mounting (fixings not included)
Weight 1.8 kg, overall diameter 280mm, depth 135mm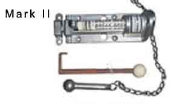 Hand Operated Rotary Alarm Bells




Any comments regarding this site? Please e-mail dale@lhcfp.co.uk
Copyright (C) 2021 Extinguisher Doctor Limited. London & Home Counties Fire Protection is a trading name of Extinguisher Doctor Limited.