Wet Chemical Fire Extinguishers
.
Additional Information And Downloads
Wet chemical or Class F fire extinguishers are the only ones recommended for use on fire involving cooking fats and oils. Cooking appliances are the biggest single source of accidental fire in the workplace, with this in mind the wet chemical solution, the most effective means of extinguishing fires involving deep fat friers. The solution cools and emulsifies when applied to burning fats and oils. This seals the surface and prevents re-ignition of the fire. Wet chemical extinguishers also have A & B class fire rating.
Sizes available 2,3 & 6 Litre
Cost includes delivery, certificate of inspection and a 5 Year
Need Acrobat Reader?


Any comments regarding this site? Please e-mail dale@lhcfp.co.uk
.
ADVANTAGES AND DISADVANTAGES OF WET CHEMICAL FIRE EXTINGUISHERS
To help customers make informed judgments about the selection of the best extinguishing media for specific operational circumstances, an understanding of the advantages and disadvantages of each is essential. In respect of wet chemical fire extinguishers
ADVANTAGES
ü Best fire fighting medium for fire involving cooking fats.
ü Has a Class A rating and a Class F rating (Class F Fires are typically fires involving cooking oils and fats, such as lard, olive oil, sunflower oil, maize oil, and butter.)
ü Water content of the wet chemical rapidly evaporates from the surface of the oil taking away the heat from the oil thus cooling the oil down, it also mixes with the cooling oil, and the mixture rapidly saponifies becoming soapy like in texture.
ü Low pressure applicator, ensuring burning oil is not thrown around.
ü Lance means the operator is always a safe distance from burning oils or fats.
ü Spray nozzle has been tested, and passed the BSi 35kv conductivity test, meaning it is safe to use near electrical equipment
ü Precise extinguishing agent application - no dry chemical to clean up
DISADVANTAGES
X Expensive to buy and refill
X Limit of use - must not be used on class D fires
Kent ~ Sussex ~ Surrey ~ Wet Chemical Extinguishers ~ Class F Fire ~ CE Mark ~ 5 Year Warranty ~ BS7937
London And Home Counties Fire Protection
Fire Extinguishers Kent Sussex Surrey
Quality Wet Chemical Fire Extinguishers At Competitive Prices.




How Does Wet Chemical Extinguish The Fire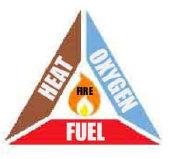 Cooling
Removing the heat
Wet Chemical extinguishes Class A Fires by cooling the burning material and removing the heat from the combustion triangle.
Wet Chemical extinguishes Class F Fires by covering the flammable liquid with a foam blanket which then form a crust on top of the cooking oil or fat , thus cutting off the oxygen supply from the combustion process. The water content of the foam will help lower the temperature of the flammable liquid.
Remove any side of the triangle and the fire (combustion) can not exist
Class A fire - are those defined as flammable solids, like wood, paper, leaves, carpet, fabrics and some plastics.

Class F fire - are those defined as special class of fire specifically for oil in deep fat fryers.
Copyright (C) 2021 Extinguisher Doctor Limited. London & Home Counties Fire Protection is a trading name of Extinguisher Doctor Limited