Portable Fire Extinguishers Inspection
Portable fire extinguishers are required Under the Regulatory Reform (Fire Safety) Order 2005 and The Management of Health and Safety at Work Regulations 1999 to be inspected by a competent person at least every 12months. Almost all insurance companies have, within their schedule, a clause stating that regular fire extinguisher maintenance is required for them to maintain cover. The standard to which fire extinguishers are maintained is BS5306 pt3. The purpose of the inspection is to ensure that not only the extinguisher will work correctly if required but also to ensure it will work safely.
Remember that you are required to do your own visual inspection of the extinguishers at least monthly (more often in severe environments).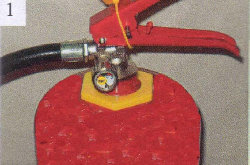 We are currently one of the only companies in the South East that have adopted the service collar introduction. Ever wondered if that extinguisher has actually been tested and refilled? Well, with collars that are colour coded for extended service year identity, you can tell if the valve has been off. Ask your current company why they are not using them. They cost pennies, yet prove work has been carried out.
Contact us for a free no obligation quotation dale@lhcfp.co.uk
Engineers Covering Need a Site Survey? Fire Extinguisher Training


Any comments regarding this site? Please e-mail dale@lhcfp.co.uk
Kent ~ Sussex ~ Surrey ~ Fire Extinguisher Servicing ~ Fire Extinguisher Refilling ~ Fire Extinguisher Inspection ~ Fire Extinguisher Maintenance
London And Home Counties Fire Protection
Fire Extinguisher Inspection, Servicing And Refilling Kent
Quality Fire Extinguishers Servicing, Inspection, Refilling And Maintenance




Why Do I have to Have This Inspection?
Who is a Competent Person And What Does the Inspection Involve?
A competent person is someone who has been trained, received on-the-job experience, and completed both a written and practical examination on fire extinguisher maintenance. To maintain their competent person status, they must attend and passed a refresher course at least every three years. If someone passed their original examination in January 2017 and has had no refresher training by January 2020, then they are not competent under BS5306-3, which in turn could affect your business insurance. It is a good business practice to ask to view these documents.
The fire extinguisher inspection will involve a degree of disassembly, and this will vary depending on the types and manufacturers. The inspection has anything from 15 to 25 stages and will include (not necessarily on all extinguishers) the following.
Assess the suitability of the extinguisher for the local risks

Operating pressure within acceptable tolerances.

Evidence of corrosion that may impair use or integrity of the extinguisher.

Discharge assembly condition.

The functionality of pressure indictors.

Condition of internal lining.

Check mass of extinguisher against stamped and previously recorded weights.

Ensure that wall brackets are secure and of correct type.

Replacement of any seals and tamper indictors.
At the end of the inspection, a label will be fixed to the extinguisher. This label will indicate the date that the inspection was completed, the present condition of the extinguisher, the recorded weight of the fire extinguisher as well as the date that the next inspection is required. The label will also indicate the inspecting technician, company, and its contact details (Address & Telephone Numbers).
Once all your fire extinguishers and blankets have been inspected, you will be issued a three-part certificate. The first part is a service inspection report, highlighting and parts used and any recommendations we may make, the second part is a certificate of inspection, and the third part and a certificate of conformity. The certificates not only lists items that have passed inspection but those which have not. This report and certificate are produced in line with BS5306 pt3, and there is no additional charge for the certificates.
What Is Extended Service?
The term extended service was adopted into BS5306 pt 3 in 2003, and it refers to the extinguisher (except Co2 type) being discharged under controlled conditions by a competent person into a container, not into the environment) to ensure that it performs correctly, it is then stripped down and thoroughly inspected inside and out. With the majority of modern extinguishers being the stored pressure type, it is only at this point that the internal condition of the extinguisher can be verified. If the extinguisher is in usable condition, any faulty or worn parts are replaced, it is recharged and placed back into service.
Extended service intervals for Water, Powder, Foam, and Wet Chemical extinguishers are every five years. Co2 extinguishers require hydrostatic testing and a complete overhaul of the extinguisher body every ten years, and only certified testing stations can only carry out this process.
For Customer Information - Have you heard this?
We have seen a very big rise in the way our competitors try to convince you, the customer, heard any of these?
It's cheaper to buy a new extinguisher than refill your old one, then normally charge you extra to dispose of your old extinguisher!

Parts are no longer available.

The extinguisher no longer conforms to some standard or is not BAFE approved.

You require extra extinguishers due to legislation change.
This is completely false and, in most cases, means that they either lack the knowledge required to carry out an extended service or do not process the tools to carry out the task. London And Home Counties Fire strongly believe that reusing and not just recycling your old extinguishers is kinder to your pocket and the environment. We are amazed at how most of our competitors are sales motivated.
.
Copyright (C) 2021 Extinguisher Doctor Limited. London & Home Counties Fire Protection is a trading name of Extinguisher Doctor Limited
'Our technicians have the training and the expertise to service and refill virtually all makes and models of portable fire extinguishers.'
The customer's monthly inspection should include the following checks
Is the extinguisher located in the designated location?

The correct extinguisher as detailed in the fire logbook.

The extinguisher is unobstructed, visible, and ideally, its operating instructions face outwards.

The operating instructions are clean and legible.

There are no signs of obvious damage or missing any parts.

The pressure gauge needle is in the operable range or position (normally in the green).

The extinguisher shows no signs of being discharged or leaking.

The safety pin tamper indicators are not broken or missing.
The findings of the monthly checks should be recorded, and any problems reported to a senior company manager or your extinguisher maintenance company.