Water Fire Extinguishers
Water fire extinguishers are ideal for use against Class A fires involving wood, sugar, leaves, paper, textiles etc.
Sizes Available: 6 & 9 Litre
Cost includes delivery, certificate of inspection, and a 5 Year Warranty
Additional Information And Downloads
Need Acrobat Reader?


Any comments regarding this site? Please e-mail dale@lhcfp.co.uk
ADVANTAGES AND DISADVANTAGES OF WATER FIRE EXTINGUISHERS
To help customers make informed judgments about the selection of the best extinguishing media for specific operational circumstances, an understanding of the advantages and disadvantages of each is essential. In respect of water fire extinguishers
ADVANTAGES
ü Cost - Cheap to buy and refill
ü Cooling Effect - Excellent surface penetration and cooling properties, which help to rapidly reduce the flames.
ü Environmentally Friendly Medium – Plain water and nitrogen poses no threat to the environment or operator.
DISADVANTAGES
X Limits Of Use - Water extinguishers can only be used on solid combustibles, such and wood, paper and textiles.
X Temperature Restriction - As it uses plain water as its extinguisher medium it is liable freeze at low temperatures, even with low freeze additive still only use in temperature down to –10oc.
X
Danger If used On Wrong Class Of Fire – Conducts electricity and is also highly volatile when used on
flammable liquid fires, must not be used on Class B, C, D, E, and F fires.
Kent ~ Sussex ~ Surrey ~ Water Extinguisher ~ BS EN3 ~ Class A Fire ~ Environmentally Friendly Extinguisher ~ Kitemarked ~ BAFE Approved ~ CE Mark ~ 5 Year Warranty
London And Home Counties Fire Protection
Fire Extinguishers Kent Sussex Surrey
Quality Water Fire Extinguishers At Competitive Prices.




How Does Water Extinguish The Fire
Water extinguishes Class A Fires by cooling the burning material and removing the heat from the combustion triangle.
Cooling
Removing the heat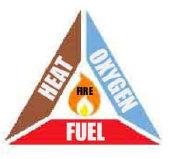 Remove any side of the triangle and the fire (combustion) can not exist
Class A fire - are those defined as flammable solids, like wood, paper, leaves, carpet, fabrics and some plastics.
Copyright (C) 2021 Extinguisher Doctor Limited. London & Home Counties Fire Protection is a trading name of Extinguisher Doctor Limited.