Dry Powder Fire Extinguishers
Dry powder extinguishers are ideal for use against class A, B & C fires. Highly effective against petrol and volatile liquids which makes them ideal for vehicle protection.
Sizes available 1,2,3,4,6,9 & 12Kg
M28, Monnex and Pyromet extinguishers are also available.
Cost includes delivery, certificate of inspection and a 5 Year warranty
Additional Information And Downloads
Need Acrobat Reader?


Any comments regarding this site? Please e-mail dale@lhcfp.co.uk
ADVANTAGES AND DISADVANTAGES OF DRY POWDER FIRE EXTINGUISHERS
To help customers make informed judgments about the selection of the best extinguishing media for specific operational circumstances, an understanding of the advantages and disadvantages of each is essential. In respect of dry powder fire extinguishers
ADVANTAGES
ü Quick Knockdown - Dry powder, when correctly applied and at the required application rate, has the ability to ensure an initial quick knockdown of the fire.
ü Non-Conductor of Electricity - Dry powder can safely be used at incidents where it is known or suspected that 'live' electrical equipment is present.
ü Good on Running Fuel Fires - Owing to its fire extinguishing action, dry powder, when used in conjunction with foam sprays, can be extremely effective when used on running fuel fires.
ü Creates No Thermal Shock - Because the application of dry powder onto hot metal does not cause thermal shock, it is particularly useful for dealing with fires involving undercarriage assemblies.
ü Good Heat Shield - The discharge of dry powder creates an effective shield against radiated heat. In cases where large quantities of powder are discharged, this has the potential to shield surrounding structures and personnel from the damaging effects of the fire.
ü Wide Range Of Use – Dry powder extinguishers can be used on class A,B and C Fires.
ü Wide Temperature Range – Typically can be used between -20oc to +60oc.
ü Mass for mass the most effective fire-fighting medium.
DISADVANTAGES
X Visibility Problems - The application of dry powder and generation of a dense powder cloud will dramatically reduce the visibility of the operator so they may not be able to use vision to judge the effectiveness of the powder on the fire or may jeopardise escape in a fire.
X Can Cause Breathing Problems - If dry powder is inhaled it can irritate the respiratory organs. Whilst short term exposure is not considered to be harmful, repeated inhalation should be avoided.
X Leaves a Residue - Dry powder is a very messy extinguishing agent that will leave behind a residue that is corrosive to certain materials and because it is a find powder it can also be abrasive. Thoughtless use may lead to the powder causing more damage than the fire itself, using dry powder fire extinguishers in kitchens or offices as powder can contaminate food and inhibit the use of electrical components such as keyboards if discharged. Because of the properties of powder being very light and easily carried through the atmosphere dry powder extinguishers when discharged risk contamination over a wide area.
X Poor Post Fire Security - Due to the smothering and chemical interference effect of dry powder, it will only remain effective whilst it is present in the atmosphere above the fuel. Because it is a cloud of fine powder, particles of it can easily be dispersed by the wind, giving a very real danger of rapid re-ignition of fuel.
X Vulnerable To Packing Down – Failure of extinguisher can result from the packing down of the powder within the extinguisher body, this problem is associated more with cartridge operated extinguishers. This can be a particular problem on vehicle mounted equipment as the vehicle vibration will cause the powder to compress under its own weight. Regular maintenance routines are essential; to prevent failure of equipment at a crucial time.
X Can Break Down Foam Blanket – The use of dry powder close to an area covered by a foam blanket may lead to the foam breaking down more quickly.
X Usage & Location – Because of the disadvantages above dry powder extinguishers should only be found in industrial settings and where no alternative fire extinguisher mediums are suitable. They should not be found in offices, flats etc.
X Limit of use, not to be used on class D,F fires
Kent ~ Sussex ~ Surrey ~ Dry Powder Extinguishers ~ BS EN3 ~ Class A Fire ~ Class B Fire ~ Class C Fire ~ Kitemarked ~ BAFE Approved ~ CE Mark ~ 5 Year Warranty
London And Home Counties Fire Protection
Fire Extinguishers Kent Sussex Surrey
Quality Dry Powder Fire Extinguishers At Competitive Prices.





Remove any side of the triangle and the fire (combustion) can not exist
How Does Dry Powder Extinguish The Fire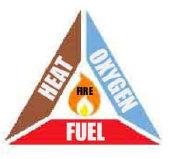 ABC Dry Powder extinguishes Class A Fires by creating air tight crust over the burning material thus removing the oxygen from the combustion triangle.
ABC Dry Powder extinguishes Class B & C Fires by interrupting the chain reactions of combustion, in the classroom we use the removing the oxygen from the combustion triangle to demonstrate its method.
Class A fire - are those defined as flammable solids, like wood, paper, leaves, carpet, fabrics and some plastics.

Class B fire - are those defined as flammable liquids, like solvents, petrol kerosene, some oils and liquefiable solids such as polish, wax and some plastics.

Class C fire - are those defined as flammable gases, like butane, propane and natural gas.
Class E fire - are those defined as involving Electrical Apparatus. Electricity does not burn so the fire is caused by such things as wiring insulation or PCB burning.
Copyright (C) 2021 Extinguisher Doctor Limited. London & Home Counties Fire Protection is a trading name of Extinguisher Doctor Limited